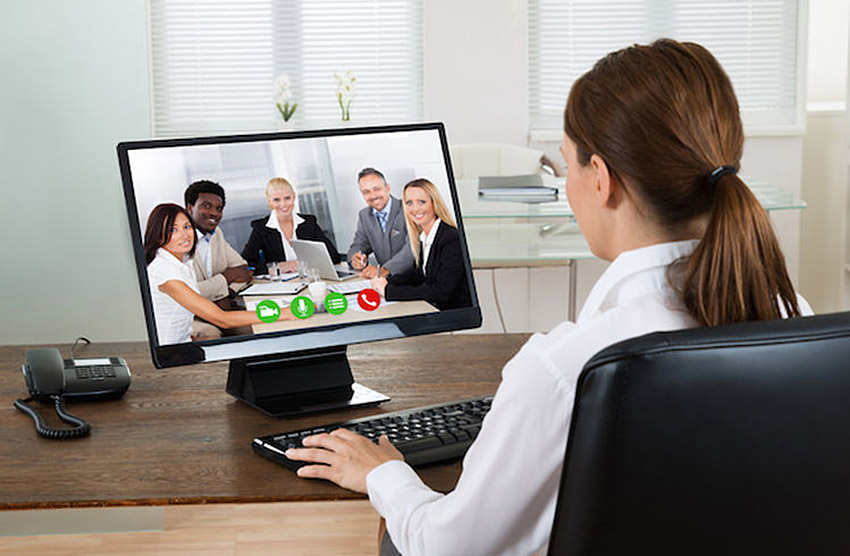 Everything you need to know about video recruitment software
If you're desperate to get stuck straight into our top 5 list, then scroll on down to our Best Video Interview Platforms section.
Welcome to our comprehensive guide to the Best Video Interview Platforms! Before we get stuck into our list, we thought it would be a good idea to look at the video interview trend in a bit more detail and understand more about this exciting new trend taking over the recruitment sector.

What are video interviews?
Simply put, video interviews are a job interview that takes place remotely using some type of video technology or software to connect the candidate with their potential employer. Video interviews are becoming increasingly popular in the recruitment world as they provide an extra layer of information, by allowing employers to see candidates' body language, and build a more personal connection with candidates before inviting them for a face to face meeting.

From a recruiter or employer's perspective, video interviews can provide huge cost and efficiency savings. Anyone who has been involved in recruiting for a job role will tell you that screening candidates, scheduling phone interviews, conducting interviews and reviewing applications takes a significant amount of time – especially when you have your typical day-to-day responsibilities to worry about as well!

Video interviews allow employers to review the broadest possible pool of talent without sacrificing endless hours of admin and scheduling.
Types of Video Interview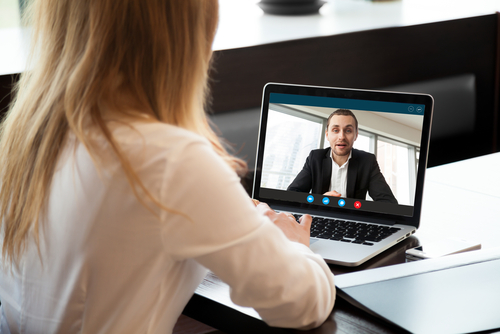 There are 2 main types of video interviews: pre-recorded and live interviews. These may also be known as "asynchronous" and "synchronous" video interviews.

Pre-Recorded Video Interviews
Pre-recorded, or asynchronous video interviews are typically used in the earlier stages of the recruitment process when you still have a large pool of candidates to review. Typically, the employer or recruiter will send candidates a list of pre-determined questions, and the candidates will then film themselves delivering answers at a time and place that suits them. Candidates will then submit their pre-recorded video back to the employer, where the hiring manager can review multiple candidate video interviews at a time that suits them.

Being able to block out 2 hours in your diary and review multiple pre-recorded candidate videos back to back is a hell of a lot easier than trying to book back to back phone calls. Especially when candidates who are still busy with their current job commitments will usually be unavailable during normal working hours.

Live Video Interviews
Live, or synchronous video interviews are usually conducting in the later stages of the recruitment process where employers or hiring managers have already reviewed the candidates initial application and had some form of back and forth communication.

These types of video are known as synchronous because both the employer and candidate are present at the same time, and speaking to each other via video connection in real time. Live video interviews are often used as an alternative for in person or face to face interviews as they provide a similar experience for both candidate and employer.

Live video interviews are especially useful for international employers who are looking to hire the best talent no matter where they are based in the world. Hiring candidates from overseas can be tricky at the best of times, and live video interviews are a great way for both candidate and employer to form a more personal connection before committing to working together. Especially for candidates who are considering moving their entire lives to another country, talking to your potential new employer via video interview can help to ensure you know exactly what you're getting into and that you understand and get on with your potential future boss!

How do video interviews work?
Broadly speaking, video interviews are conducted over the internet using a video hosting platform of some kind. In their simplest form, live video interviews may be conducted via well-known communication platforms like Skype, Slack or Google Hangouts. But as video interviews have become increasingly popular, specialist video interview software solutions have emerged to offer a more bespoke and well-suited experience for video recruitment.

One of the biggest game-changers in video recruitment has been the introduction of pre-recorded video interviews. Pre-recorded interviews allow employers to screen a large number of candidates, without losing out on the quality and quantity of information they receive about an applicant.
How do pre-recorded video interviews work?
Typically speaking, a recruiter or employer will use their chosen video interview platform to send a list of pre-selected questions to a large group of candidates. Candidates will then receive an email with a link to the video recruitment platform (in some cases candidates may need to download software onto their computer). Candidates will be presented with each question one by one, and will be given time to review the question and gather their thoughts before the filming begins.

Once the candidate is ready, the recording will start and the candidate will deliver their answer using their webcam, or similar camera tool. The candidate can choose when to stop the recording for each answer, and will move onto the next question as soon as they're happy. In some cases, recruiters will give a time limit for each question, so the recording will automatically stop when the timer has run out.

Once a candidate has recorded answers to all the interview questions, their responses are logged and stored securely in the employers video interview software. The hiring manager will usually get a notification of some kind (typically email) to inform them that a candidate has completed their interview.

Once a large enough group of candidates have completed their video recordings, the hiring manager and anyone else involved in the recruitment process can begin reviewing the candidates pre-recorded interviews. Many of the best video interview platforms will have some type of built-in ratings and feedback system, so recruiters can score candidates answers to each question and easily review feedback from multiple people.

What's the difference between one-way video interviews and live video interviews?
Live Video Interviews
Live video interviews are conducted, well, live – where both the candidate and recruiter are present at the same time and speaking to each other in real-time via video connection. To put it simply, think of a live video interview as a more formal version of a FaceTime or Skype call.

Live video interviews are a great alternative to face to face interviews and are usually used in the later stages of the recruitment process where employers want to speak to their candidates in person. The downside of live video interviews is that they need to be conducted at a time when both the employer and candidates are available – which can be difficult if the candidate is still busy with their current job, or if you're in different time zones.
Pre-recorded Video Interviews
Pre-recorded interviews on the other hand (also known as 'asynchronous' video interviews) are a great way to screen large groups of candidates in the earlier stages of the recruitment process as they do not require both the candidates and the employer to be available at the same time. Pre-recorded interviews allow employers to gain a lot more information from early-stage interviews when compared to phone screening and provide significant cost and time savings compared to more traditional methods.

Many forward thinking companies, especially tech startups and other technology-focused businesses, are embracing pre-recorded video interviews as a key component of their recruitment strategy. So it's important that candidates familiarise themselves with the ins and outs of video interviews to ensure they can successfully pass one of the first hurdles to securing their dream job.

Why do employers use video interviews?
Video interviews have become one of the biggest trends in employer recruitment processes for one very simple reason – they can provide huge cost, time and resource savings, without compromising on the number of candidates you can reach, or the quality of the interview experience.

Finding the best talent is paramount for any business, but anyone involved in the recruitment process will tell you that the screening and interviewing candidates is insanely time-consuming. Employers often find themselves stuck between a rock and a hard place; they want to review the largest possible pool of candidates, but simply don't have the time to schedule, conduct and review individual phone and face-to-face interviews with hundreds of applicants. Especially when you take into account the time wasted on candidate no-shows and conducting interviews with applicants who clearly aren't right for the job – it's pretty easy for employers to get frustrated with the process.
Why employers use live video interviews
Live video interviews provided a great way for employers to enjoy the equivalent of a face-to-face experience without having to be in the same physical space as a candidate. But live video interviews still didn't solve issues around scheduling and candidate no-shows. Because of this, live video interviews are usually reserved for the later stages of the recruitment process, where employers have already had multiple back and forth communications with a candidate.
Why employers use pre-recorded video interviews
The real game-changer in video interview recruitment was the development of pre-recorded video interviews. Pre-recorded interviews allow employers to get detailed visual responses from a large pool of candidates without having to spend anyone to one time with each individual candidate. Compared to live video interviews which can easily be conducted using existing software like Skype or Google Hangouts, pre-recorded video interviews require a specifically designed platform.

One-way or pre-recorded video interviews allowed employers to utilise video in the earlier stages of the recruitment process, where traditionally you had to rely on written CVs or phone screening to eliminate candidates. One way video interviews are not only much quicker and more efficient than individual phone calls, but they also provide a much greater range of information about your candidate and help you to get a better feel for the applicant as early on as possible in the recruitment process.

Employers need a tool that will allow them to create and set interview questions, send them out to candidates on mass, collect video recordings from candidates, store, review and provide feedback on the videos etc. Similarly on the candidate side of the experience, software has to show each question to the candidate with a given time-frame, set a timer for the candidate to prepare, automatically start and stop recording the candidates answers, and allow the candidate to review their responses before submitting their video interview.

What do employers look for in video interviews?
Apart from providing huge time and cost savings, one of the main reasons why employers use video interviews is because they provide a much broader range of information about potential candidates and allow recruiters to form a more personal relationship with their potential new employees.

Video interviews allow hiring managers or recruiters to assess a candidate's body language and public speaking ability in a way that a phone call or simple CV simply can't. Pre-recorded video interviews challenge candidates to think on their feet and quickly come up with a well-reasoned and clearly presented answer to the employer's question.
How do employers assess video interviews?
When reviewing video interviews, employers will typically be assessing a candidate based on a predefined set of criteria, specific to the job role they are hiring for. Hiring managers will deliberately design questions that give candidates the opportunity to show off their expertise in relevant areas and show the kind of reasoning and understanding they are looking for.

It's important to remember that unlike a phone call, employers will also be assessing your body language and visual presentation – so you'll want to make sure you've dressed smartly and positioned yourself in a clean and presentable environment when you record your interview. Simple things like making the effort to find a quiet, well-lit space to record your answers can make a massive difference.

Many pre-recorded video interview questions will have a timer associated with them that will decide how long you will get to prepare your answer before the video starts recording. If a question only has a 10 second timer, you can safely assume that the answer doesn't need to be too detailed and should be something relatively easy to answer if you are a good fit for the job. If a question has a longer time then the employer is probably looking for a more detailed and well-presented answer.
What type of companies use video interviews?
Video interviews have become a hugely popular trend in recruitment over the past 5 years and are now commonly used throughout a range of industries. Some of the biggest companies in the world have made video interviews an integral part of their recruitment strategy.
Video Interviews at Fortune 500 Companies
Video recruitment has been particularly popular among large Fortune 500 companies who are constantly recruiting for new talent and want to review the largest possible pool of candidates. Unilever and Hilton, in particular, were early adopters of video interview recruiting and have used it widely ever since.

Huge companies like Walmart, Exxon, Apple, Volks Wagen, IKEA, BAE Systems, the US Postal Service, Sony Music, Superdrug, Virgin Media and many more are all using video interviews to hire the best candidates.

The sheer number of jobs being recruited for at the same time make it almost impossible for Fortune 500 companies to screen individual candidates by phone, and video interviews have been a valuable tool for large scale recruitment.
Video Interviews for International Employers
Video interviews are also especially popular among companies that need to hire internationally. Obviously geographical constraints make it difficult for employers to conduct face to face interviews with candidates in different countries – so if you're applying for a job overseas, you should definitely expect to take part in a video interview during the recruitment process.

The Best Video Interview Platforms
Top 5 Video Interview Software Suppliers
Choosing the right video interview software for your company or agency can be difficult – especially when there is a whole range of suppliers out there claiming to be the best at what they do.

To try and make life a bit easier for you, we've compiled a list of 5 of the best video interview and recruitment software providers to help speed up your hiring processes and modernise your candidate experience.

In this list we've deliberately chosen a range of providers that will suit companies of all shapes and sizes, and we've highlighted the areas where each option excels or falls short. Whether you're looking for a straight-forward, pure and simple video interview platform, or a more comprehensive recruitment automation solution, these are the top 5 video interview and recruitment software providers that you should consider.

It's important to mention here, this list is not ordered from best to worst, instead we are highlighting the 5 best providers in different areas. So don't assume that number one is automatically the best!

P.s. We've also created in-depth comparison articles for each of the video recruitment platforms on this list! Simply click on the link at the end of each provider's section to access the full review.

What does Launchpad have to offer?
Launchpad focuses on an end-to-end recruitment automation solution and offers a range of products and features within this category. Their recruitment software works with a range of operating systems and devices, including Mac, PC, iphone/ipad and Android phones.

Launchpad breaks down its offering into a selection of different products, and it's not clear whether you can pick and choose which products you take (for example just take up thier live video interview product on its own), or whether you need to adopt their entire solution.

Launchpad's products include:
Recruitment Automation Platform – an all-round automation software
Recorded Video Interviews
Launchpad SELECT – candidate screening and skills testing
Launchpad VERIFY – recruitment analytics and machine learning
Launchpad LIVE – Whitelabelled face-to-face live video interviews
Launchpad PREDICT – AI-based software that reviews and pre-selects candidates
The downside of Launchpad's offering is that they break up their solution into different products and don't appear to offer a dedicated video interview service with all the related bells and whistles. However, if you're looking to adopt an entire recruitment automation solution, they clearly have a lot to offer.

They put a heavy emphasis on Artificial Intelligence or AI, and Machine Learning as something that makes them unique. And they claim that they're sophisticated analytics and reporting tools can help to promote diversity and eliminate bias from parts of your hiring process.

Launchpad also offers an API so that developers can integrate their software directly into their own applications. This is great news for larger companies with technical resources available as it will allow seamless and customisable integration into any existing software or databases. However, if you're a smaller company with limited engineering resources, this probably won't be much use to you.
Launchpad Pros:
Comprehensive recruitment automation solution with a range of products and features covering every part of the recruitment process
Offer whitelabelled video interview software so you can retain your branding
Established company with a premium product
API available for technical integration
Uses Artificial Intelligence and machine learning to identify potential bias and promote diversity
Excellent range of content available online from white papers and case studies to instructional articles on how to use the software
Launchpad Cons:
Not a great option for smaller businesses or startups (targeted at large recruitment agencies or HR specialists)
No free trial or free 'basic' package available
No pricing information available without booking a demo
More focused on an entire recruitment automation solution rather than a dedicated video interview platform
Requires technical/engineering resources to integrate with different recruitment software or existing systems
No ability to host panel interviews or archive old candidate interviews
No information about GDPR compliance available on their website
Want to learn more about Launchpad and what they have to offer? Check out our detailed blog post covering everything from how much Launchpad costs, to who it's designed for, and a general background on the company. Read more here: Launchpad vs Employertube – Video Interview Software Comparison.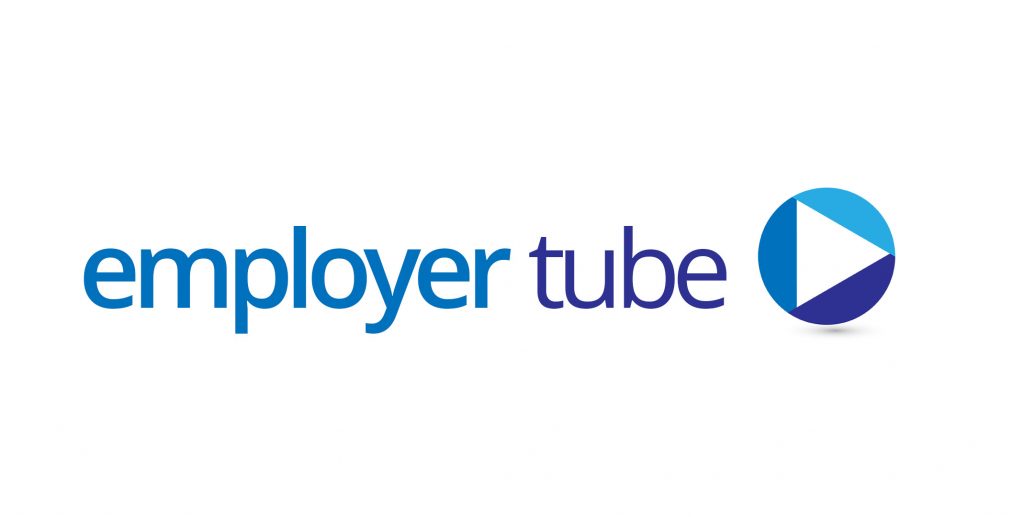 What does Employertube have to offer?
Employertube offers a slick and seamless video interview recruitment platform with both live and pre-recorded video interviews available. The platform makes it easy for employers to scale their recruitment process without losing out on candidate experience or quality of talent.

Employertube Features:
Live and pre-recorded video interviews
Analytics and reporting dashboard
Collaborative feedback and reviews
Diversity monitoring system
Searchable Video CV library
Job posting and search platform
API framework for ATS integration
24/7 customer support
Job finder service
Access to free online courses
With Employertube's platform, employers or recruiters can easily create branded video screening processes to assess early stage candidates – allowing users to create tailored questions with fixed read and answer times. Once candidates have submitted their responses, hiring managers can analyse and compare multiple candidates at once with smart reporting that helps to highlight and weed-out inefficiencies in the interview process.

Employertube also offers live video interviews as standard. The system is incredibly easy to use and Employertube's focus on their tech stack has meant the system can handle high volume demands without compromising connection quality.

What really makes Employertube standout is their unique Diversity Monitoring system that helps to remove unconscious bias and foster the creation of a diverse workforce. Employertube's software identifies parts of the recruitment/interview process that may be disproportionately eliminating candidates from certain backgrounds, allowing employers to continuously review and improve their processes.

The platform is clearly built for use by multiple users as they have implemented collaborative reviews, video archiving and reporting tools that make it easy for hiring teams to work together on reviewing and assessing applications.

On top of that – Employertube is the only platform on the list to offer a job search built-in to their website and offer free job postings to all their employer clients. Employers can also access paid-for promoted job listings to get their vacancies in front of more candidates.

But it doesn't stop there… Employertube provides an incredibly useful Video CV Library. Candidates can record and upload their own video CVs which are then tagged and categorised so that they are easily searchable – allowing recruiters to hunt down the best talent instead of waiting for candidates to come to them.
Employertube Pros:
Dedicated video recruitment platform with pre-recorded and live video interviews included as standard
Comprehensive analytics and reporting dashboard
Excellent diversity monitoring system to remove unconscious bias
Incredibly useful video CV library to proactively find top talent
Integrates with existing ATS software with API framework
Offers free trial and online demo before purchase
Integrated job posting platform (only platform to appeal to both candidates and employers/recruiters)
Immersive employer branding for video interview platform
Collaborative review and feedback functionality as standard
Access to database of online courses
Employertube Cons:
Focused on video interview software rather than entire recruitment automation system
Doesn't utilise AI or machine learning
No concrete pricing information available online
Not currently ISO certified (although working towards ISO 27001 certification)
Relatively new provider so lacks large backlog of testimonials
Limited multi-language capabilities (still building multilingual offering)
No mobile app available
If you want to read even more detail about Employertube's offering, you can check out any of the detailed comparisons we've created against the other competing video recruitment platforms on this list. Simply click the link at the end of each providers section to access the full detailed review.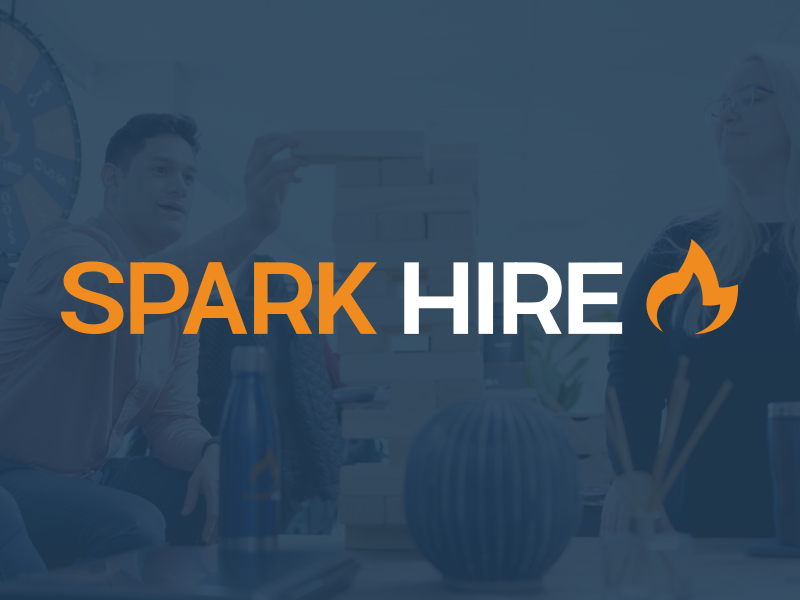 What Does Spark Hire Have to Offer?
Spark Hire is possibly the most well established and well-known video interview platform. Unlike Launchpad and other generalist recruitment automation software providers, Spark Hire offers a dedicated video interview SaaS platform. They put a heavy emphasis on the efficiency gains employers can make by using video interviews as part of their hiring strategy and have good quality collaborative features that allow you to bring hiring managers into the interview process earlier on. One testimonial claims that a recruitment firm managed to improve its submit-to-hire ration from 3:1 to 2:1 by using the platform.

Spark Hire's video recruitment software offers a range of features including:
Video scheduling software
Live video interviews
One-way video interviews
Outbound video messaging tool
Interview review and feedback platform
Collaborative interview reviews and feedback
Spark Hire have won a number of different industry awards over the years and do especially well in categories around ease of use and usability. They may not be as comprehensive or complex as some of their competitors, but they have nailed the core features of a good video interview platform.

Their interview scheduling tool is particularly useful as it integrates with a variety of popular calendars including: Google, iCloud, Outlook, Exchange and Office 365.

Their video messaging tool is another stand-out feature. This enables recruitment teams to create their own personalised videos that can be used during outbound outreach to potential candidates. This is certainly an interesting way to incorporate video into different parts of the recruitment process, but there isn't much evidence available to show the impact of using videos in this way.

When it comes to flexibility, Spark Hire does offer a range of sophisticated customisable features, BUT, most of the more advanced options are only available with their higher tier plans. With low level plans you may find that you're limited by the number of jobs you can post at the same time, the quality of the analytics available, the ability to customise your interview process etc.
Spark Hire Pros:
Dedicated video interview platform – focused on all aspects of video recruitment
Integrates with variety of existing Applicant Tracking Systems
Established and long-running company
Won multiple industry awards, especially for ease of use
Clear tiered plan pricing structure
Good quality support and customer success team available
Offer branded live interviews for consistent candidate experience
Good variety of case studies and testimonials available online – including pre-recorded demos
Spark Hire Cons:
Advanced customisable features only available with higher level plans
Doesn't focus on advanced analytics to help eliminate bias and improve diversity
Requires an annual subscription to benefit from full range of features
Limits on number of active jobs with lower level plans
No information about GDPR compliance available on the website
May need to purchase additional video storage (interviews stored for up to 1 year and can only be downloaded with higher level plans)
API only available with higher level plans
Check out our full breakdown of SparkHire's offering and how they stack up against Employertube in our detailed blog post here: SparkHire vs Employertube – A Detailed Comparison.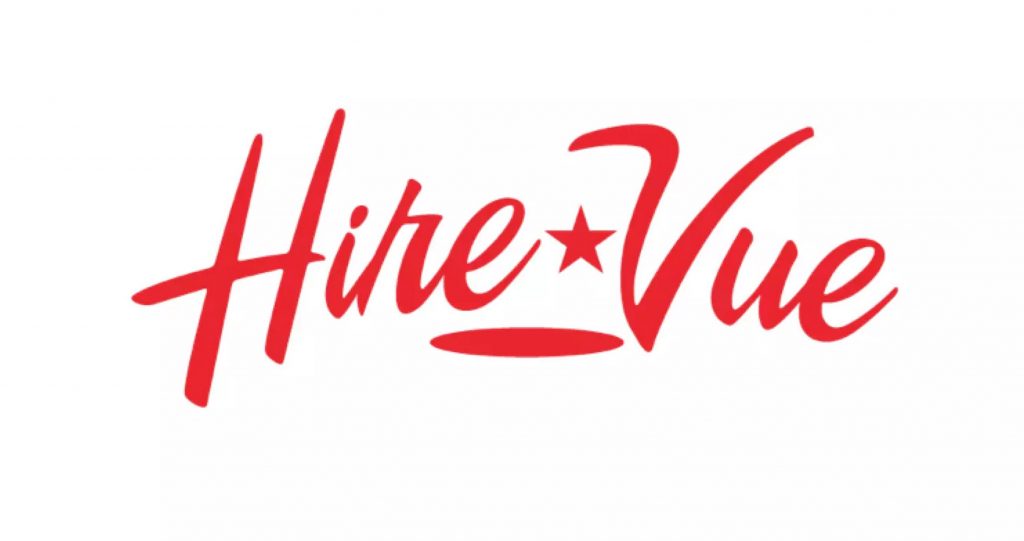 What does HireVue have to offer?
HireVue is focused towards the booming tech recruitment market and has built its software around that niche. They put huge focus on their use of Artificial Intelligence and machine learning and claim that their proprietary code and algorithms are able to predict high quality candidates.

They have clearly targeted themselves towards large enterprise-level accounts with international companies and you won't find any pricing information for their products online – usually, a good hint that it's going to be pretty expensive.

HireVue's real USP is thier use of game-based challenges and coding exercises during the application process. Obviously, with a focus on tech talent like engineers and developers, integrating coding challenges into the interview process is a good way to get a sense of the candidate's abilities.

HireVue seems to break down their offering into a selection of different products (but to be honest it's hard to tell exactly what you'll get from each option as there's no clear pricing or package information on their website…). Their main products are:

HireVue Assessments – pre-hire assessments using gaming and coding challenges to make AI-driven predictions on the best talent
HireVue Video – asynchronous video assessments
HireVue Live – live video interviews
HireVue Coordinate – an automated scheduling tool that integrates with your company calendar
HireVue Services – additional help with implementation, adoption and long-term success.
Given the fact that HireVue is targeting the tech recruitment market, they wanted to make sure that their own digital security was up to scratch. HireVue has some of the most sophisticated security standards out of all video interview software providers, with ISO 27001 certification, third party certifications for their application and data storage, and the ability to assign permissions for data access on the platform.

The company has won a number of awards, including 'Top HR Product of the Year' from HR Executive Magazine, and being named one of the 'Top 10 Most Promising Companies' by Forbes.

The stats on HireVue's website claim that they can increase time to fill by up to 90%, increase hire quality by up to 88% and increase new hire diversity by up to 55%. These stats are impressive but you can't find average figures anywhere on the site (as opposed to "up to" X%) and there's no information about how they came up with these numbers…
HireVue Pros:
Proprietary AI to predict quality candidates
Excellent for tech talent recruitment with game-based coding challenges
Collect tens of thousands of data points on candidates
Offers HireVue Coordinate for automated scheduling
Industry-leading security standards with ISO 27001 Certification
System built for scale and to handle spikes in activity from enterprise accounts
Strong user-base among Fortune 500 companies
Certified integrations with third-party software like SmashFly, PageUp and SmartRecruiters
HireVue Cons:
Focused on tech recruitment so not good for companies with low tech talent requirements
No pricing information available online
Targeted towards enterprise level accounts so not the best option for smaller companies
Focused on 'Hiring Intelligence Platform' more than video interview software
Not clear what products/features you can pick and choose
No information about GDPR compliance available on website
Can't access demo or detailed product info without submitting form
Not clear whether there is an additional cost for support and implementation
Read the full review of HireVue vs Employertube here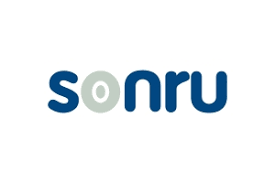 What does Sonru have to offer?
Sonru is a pure and simple video interview platform – offering both pre-recorded video screening interviews and live video interviews. Sonru's offering is largely focused on candidate selection and was one of the first companies to offer pre-recorded video interviews to employers and recruitment agencies.

Sonru doesn't have many of the bells and whistles that other providers offer, but they have nailed the basics of video interview software. They claim that their video recruitment solution can cut time spent during early-stage screening by up to 80% and reduce both the recruitment lifecycle and costs by 50%.

For pre-recorded interviews, Sonru provides a small range pre-made screening questions, but also allows recruiters or employers to set their own questions with fixed read and answer times for each. Like most other suppliers, they also offer branded video platforms to ensure your companies employer branding remains consistent throughout the candidate experience.

SonRu has focused heavily on security and have gained ISO 27001 certification. They offer a robust API framework for interrations with a range of existing ATS software which allows you to embed their video player into your existing workflows. Their current integrations include SmartRecruiter, HireServe, PageUp and Oracle.

However, Sonru does have serious drawbacks when it comes to functionality… their interview analytics are pretty basic, they don't have any diversity monitoring features, and crucially they lack the collaborative features that are essential for larger hiring teams and joint decisions.

In fact, they don't support panel interviews, video archiving, feedback management or collaborative accounts – users will have to share passwords to see any video interviews that need to be shared among a team – an obvious security and usability issue.

Whether you decide to take up Sonru's video software or not, it's still worth taking a look at the research section on their website. They have conducted some seriously comprehensive research into the video recruitment industry over the years and publish a range of regular reports and white papers.
Sonru Pros:
Established and long-standing provider in the industry
Simple, dedicated video interview platform
Multiple languages supported – with new languages added regularly
Excellent selection relevant of research reports and white papers
Good quality video and written case studies available
Full API framework for integration with ATS
ISO 27001 certified
Branded video interview platform available
Great customer support
Sonru Cons:
No collaborative features – doesn't offer panel interviews or shared feedback
Not a good choice for larger hiring teams
No free trial or online demo available
Lack of detailed analytics or reporting on recruitment lifecycle and interview quality
Lacks diversity monitoring features to reduce bias in hiring
Relatively basic solution compared to other options available
No information on costs or pricing model without contacting sales team
More focused on candidate selection than entire recruitment lifecycle
No information about GDPR compliance available online
Want to learn more about Sonru and what they have to offer? Check out our detailed breakdown in our dedicated blog post here: Sonru vs Employertube – A Detailed Breakdown.

So there you have it! Our comprehensive overview of the best video interview platforms available. We hope you enjoyed reading this blog and that it has helped you to make your mind up on which video recruitment software is the best fit for you.

Don't forget, you can check out all of our detailed comparison reviews for each of the solutions listed above if you want to get even more detail. In fact, to make your life easy, here's a list of all the comparison blogs:
Please follow and like us: